Welcome to the Nature Island
---
And welcome to avirtualDominica.com ~ a comprehensive guide to our beautiful Caribbean island, Dominica 
Get to Know Dominica – From hiking the lush mountain peaks soaring nearly 5,000 ft. tall, to diving the dramatic vertical walls of our underwater terrain, it's no wonder Dominica can take your breath away at every turn.
Explore our site to find out what makes Dominica one of the best vacation destinations in the Caribbean for scuba diving, whale & dolphin watching, hiking, bird watching, exploring a pristine tropical rainforest along our Waitukubuli National Trail, discovering our unique culture, find the perfect place to stay…or simply relaxing on one of Dominica's secluded beaches or in our unique, natural hot springs.
Nature Island Literary Festival & Book Fair
A wonderful chance to enjoy prose, poetry readings, music and much more, from local authors and visiting guests – August 11th -13th.
Emancipation
Dominica's 2017 Emancipation Celebrations are being held under the theme "Building a Culture of Peace."  Activities take place from July 28 to August 5.
Historic Tours in Roseau
Learn about the history and charms of Dominica's capital – Roseau. Guided tours provide insight to this beautiful town's architecture and the stories that come with it.
Welcome to 2017 & our Fresh New Look!
This year we celebrate the 20th Anniversary of a virtual Dominica. We hope you enjoy the new look! Feel free to send us your feedback or comments as we continue to refine and enhance our site. 

Do you have a business in Dominica?
Sign-Up for avirtualDominica.com – It's Free!
Know what you are looking for?
---
Countdown to Nature Isle Literary Fest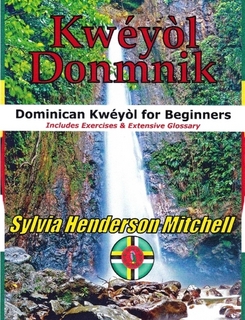 Kwéyòl Donmnik: Dominican Kwéyòl for Beginners by Sylvia Henderson Mitchell
Buy on Amazon.com

YOGA IN DOMINICA!
Dominica makes the perfect back-drop for meditation, yoga and fitness, while finding harmony within yourself surrounded by nature.
Start your plan to get healthy
by taking a Yoga Class! 
Visit our new Yoga Page to learn about Yoga Classes on island.

CITIZENSHIP BY INVESTMENT
Dominica's Citizenship by Investment Programme has been in operation since 1993 and it has been in the news quite a bit lately. What does the programme entail? Let's learn about this prgoramme, which seems to be here to stay.
Citizenship by Investment Programme in Dominica