Diving in the Nature Isle
Scuba and Snorkel in Dominica
Dominica's underwater world is as rich and varied as its topside attractions. Here you'll find volcanic vents gently releasing warm bubbles into the sea, dramatic vertical walls created by submerged volcanic craters, gently sloping shelves of colourful coral and sponges, as well as a wide variety of tropical fish and critters.
About Diving Diving in Dominica
Skip the intro, I want to know more about:
Snorkeling Sites
Just a few steps from the sand into the sea, these beaches all around the island make snorkeling in Dominica accessible.
See which beaches have the most to offer.
Dive Operators
Search through our Dive and Watersport operators around the island
Dive Sites
Your dive operator will advise you on the best site for your level and interest. However look through the list to glimpse what Dominica has to offer!
---
Equipment Recommendations
---
Introduction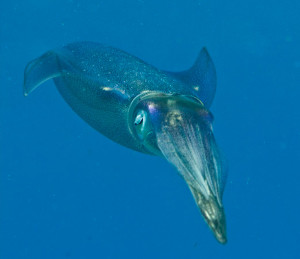 The waters of Dominica are protected: the Southern end of the island is the Soufriere Scott's Head Marine Reserve, while in the north you'll find the island's first marine reserve, the Cabrits Marine Reserve. To preserve the environment, divemasters and instructors in Dominica employ a strict "look but don't touch policy", asking that the only things you leave are bubbles, while you are free to take pictures and wonderful memories. Visitors to our island of natural wonders are required to pay a small marine park user fee which goes back into maintenance and upkeep of moorings and the parks.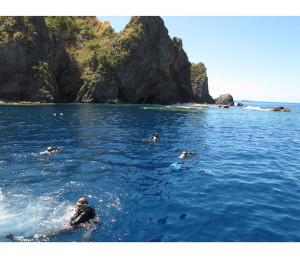 All dive sites have permanent moorings and there are plans for more up and down the coast as more sites are found and explored. The possibility of new protected areas is also being considered to preserve this pristine underwater environment.
Unlike many of our neighbours, the sands of Dominica are predominantly dark to black, which tends not to reflect light and gives the impression of very dark deep water — this is not the case in many areas. The mooring of private/charter yachts is forbidden in these areas and safe areas to anchor or moor in front of hotels along the coast are easy to find. All diving in our waters is required by law to be done through a dive centre.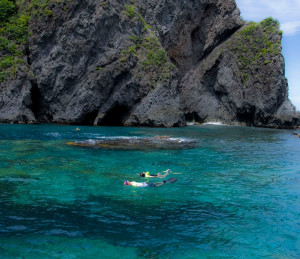 Although dive staff pride themselves in being able to point out the rare and uncommon, the deep waters off the island also draw in big pelagics from time to time. So make sure to look up once in a while, you never know what's out there: whale sharks, dolphin, and on one occasion a pilot whale cruised close by a group of divers intent on finding the hidden creatures on the bottom.
Many of the world's top underwater photographers make Dominica a regular stop, some annually.
New species of invertebrate were found in 2001 on a very shallow dive off the shore. Film crews from National Geographic, The BBC Natural History Unit, as well as many others are regular visitors, filming both the beautiful reefs and the many marine mammals offshore. Creatures such as frogfish and seahorse, rare in other regions, are common here. And Dominica is also known as the Whale-Watching Capital of the Caribbean.
As with all dive sites here, "the slower you go, the more you will see." The reefs are granite based, so there are comparatively few spaces for nocturnal and hard-to-find species to hide by day. This is what draws photographers and marine creature watchers to our island.
Snorkelers & Divers will enjoy this Waterproof Fish ID card to help them identify the fish to be seen in Dominica.
Order from Amazon:
National Geographic – Guide to Caribbean Reef fish – Fish ID Card (6 in by 9 in)
Dive Awards
Dominica has been recognised for a number of awards celebrating the beauty of our underwater seascape. Here are a few:
---
2014
Dominica #1: Top 10 Dive Sites in US & Caribbean
Dominica was named #1 in a list of the top ten dive sites in the US & Caribbean. "The Nature Island consistently delivers the best in Caribbean diving, if not the world. Champagne reef and Scotts Head drop off are just a couple of the many underwater highlights." Read more on ScubaRadio.com
---
2008
Scuba Diving Magazine Awards
1st Place – Marine Life
TOP TEN Mention
Dive Destination
Marine Life
Healthiest Marine Environment
Underwater Photography
---
2007
Dominica Earns Best Diving Awards by Readers of Scuba Diving Magazine
---
2006
Scuba Diving Magazine Awards
Within the Caribbean/Atlantic region, Dominica was voted:
Top Dive Destinations – # 3
Top Wall Diving – # 5
Top Small Animals- # 1
Top Marine Life – # 1
Healthiest Marine Environment – # 1
Top snorkeling – # 5
---
One of Dominica's most popular diving and snorkeling site, Champagne is captured in this video by a snorkeler
---
Recommended Snorkeling & Diving Equipment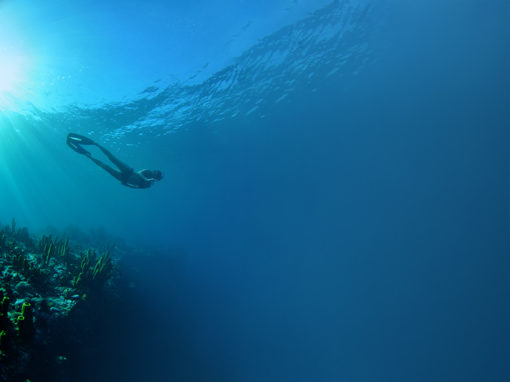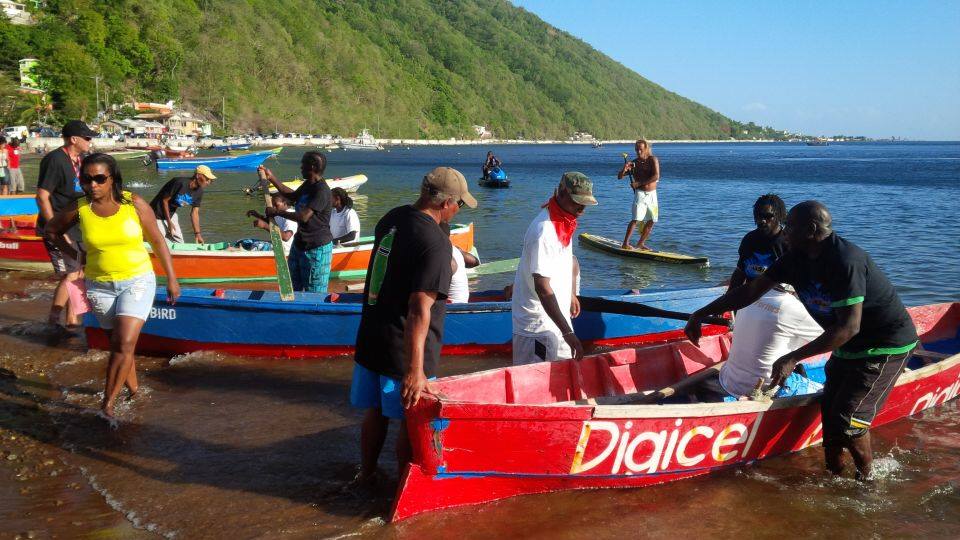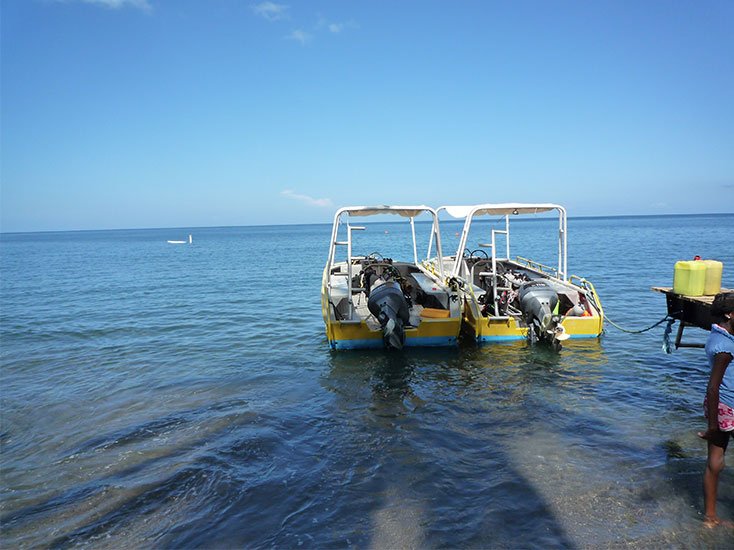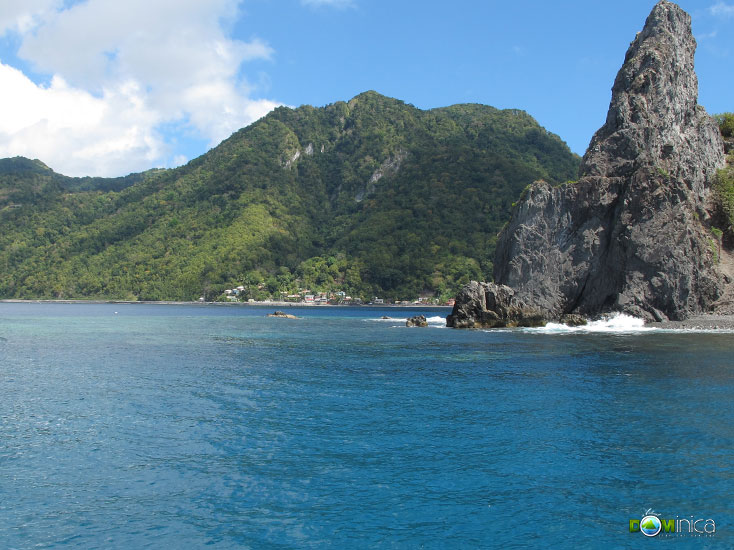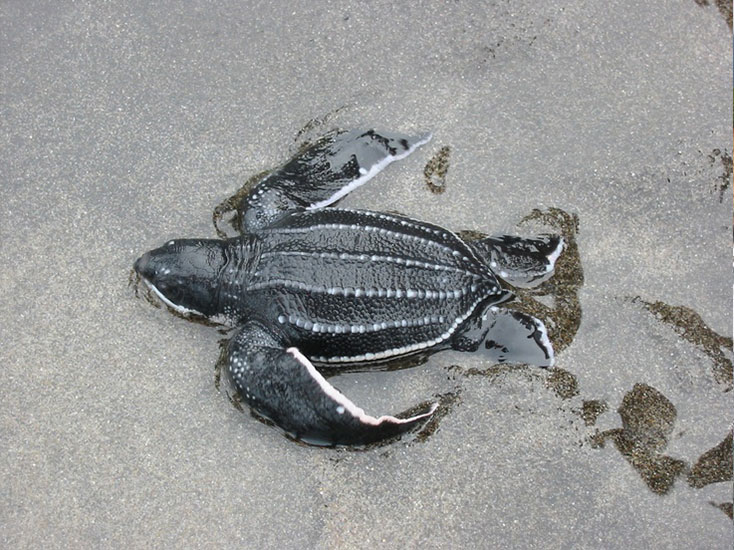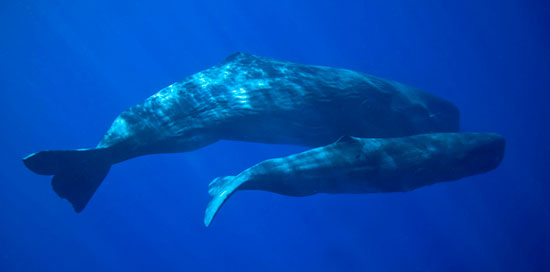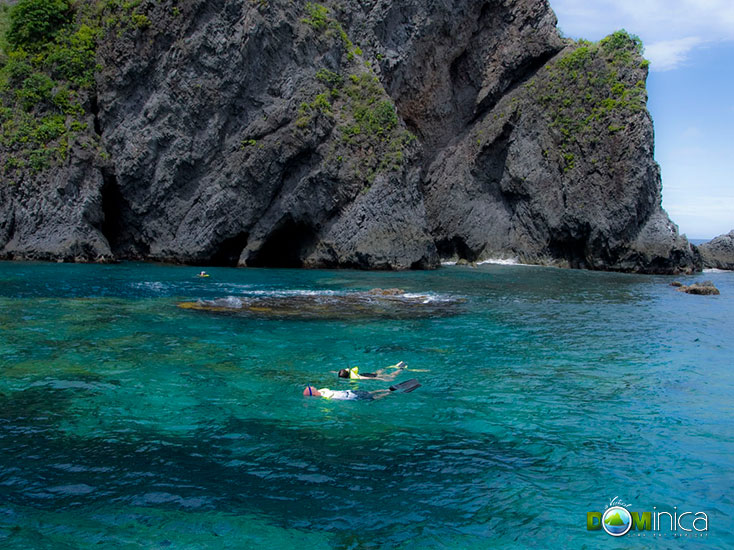 In Crystal Blue Waters: Diving in Dominica
In 1876 a traveler and writer by the name of William Gifford Palgrave visited the island of Dominica and put his impressions of the island into these words:
In the wild grandeur of its towering mountains, some of which rise to 5,000 feet above the level of the sea: in the majesty of its almost impenetrable forests; in the gorgeousness of its vegetation; the abruptness of its precipes, the calm of its lakes, the violence of its torrents, the sublimity of its waterfalls, it stands without a rival, not in the West Indies only, but I should think, throughout the whole island catalog of the Atlantic and Pacific combined.
I wonder how much more impressed he would have been if he had been able to peer beneath the calm and inviting Caribbean Sea? Unfortunately, Jacques Cousteau and the sport of scuba diving were more than half a century away. Today, Dominica's lush forest and soaring mountains are a perfect backdrop to the spectacular dive sites that sit hidden just offshore.
The dramatic topography that Mr. Palgrave raved about continues underwater and gives Dominica some of the Caribbean's most spectacular diving. As you gently slide beneath the sea, the lush green mountains are replaced by underwater pinnacles that rise from the depths, covered in brilliantly coloured corals and cloaked with tropical reef fish.
Modern-day travelers who have dared to stray from the traditional, heavily advertised Caribbean dive destinations and have embarked upon an adventure to Dominica have been treated to an unbelievable dive holiday:
Each day uncrowded dive boats pick and choose from an inexhaustible selection of pristine dive sites. Once underwater here, you seldom see other divers and you would be hard pressed to find evidence of reef damage caused by divers.
Every dive site is a macro-photographer's fantasy with a rich assortment of colourful sponges, an abundance of crinoids, camouflaged frogfish, arrowcrabs, anemones with cleaner shrimp of every kind hiding inside them, walls covered in black coral, and gorgonians with the occasional seahorse attached.
Wide-angle photographers will delight in our swim-throughs full of soldierfish and grunts that part like a curtain with the passage of each diver. Caves full of lobster, dramatic arches of coral-covered granite, schools of sennet, large Southern stingrays, big barracuda, schools of baitfish being pursued by various jacks, and huge barrel sponges make impressive images.
All of these dive sites are a stone's throw from the shore and lie within the Scott's Head/Soufriere Marine Reserve, which encompasses just under three miles of coastline. These dive sites vary in their topography as dramatically as the mountains that soar above them.
The individual dive sites here vary in many different ways, from difficulty level to currents and topography. My personal favourites are along the southern coast in the Atlantic Ocean. However, these sites are very susceptible to waves, wind and current, so it is a special treat to dive on these advanced dive sites.
In Crystal Blue Waters Text and Photos by Simon Walsh (ImagesDominica.com)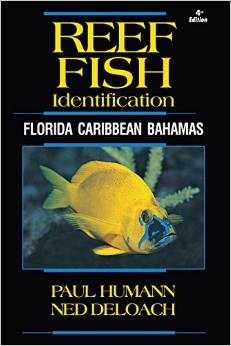 Reef Fish Identification
By Paul Humann and Ned Deloach
Florida Caribbean Bahamas – 4th Edition (Reef Set)
Buy on Amazon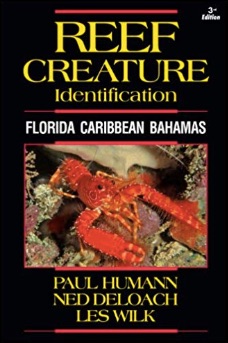 Reef Creature Identification
By Paul Humann and Ned Deloach
Florida Caribbean Bahamas – 3rd Edition (Nov 2013)
Buy on Amazon