The Kalinago People
All about Dominica's first settlers and early inhabitants
A Brief History
In 1493, as Christopher Columbus sailed along the Caribbean Chain of islands in search of gold and fortune, he passed a mountainous and rugged island with his men and his ships.  It was too difficult for him to anchor along the jagged coast of the island he would name Dominica, and so he continued to nearby Marie-galante. But to those who continued after him and set foot on Dominica, they did not find treasure as they had hoped for and instead found only rivers, rich volcanic soil, mountains and the Kalinago people (previously referred to as Caribs). The Amerindian people had settled the Caribbean island chain as far back as c3100bc (in some cases, such as with the Greater Antilles, c4000bc). The hunter-gatherer Ortoiroid people settled Dominica from about 3000bc to 400bc, to the modern day Kalinago who date back to about 1000AD. These earlier people came from South America, having traveled down the Orinoco and up the island chain bringing with them corn and cassava – their life breath Known to the Kalinago as Wai'tukubli, Dominica's rugged terrain worked to their advantage as they held back European settlers for two centuries. Agreed to remain a neutral territory, Dominica was the last Caribbean island to be colonized by Europeans. Instead Dominica served as a stopping off point for refueling ships and refreshing crews after their long transatlantic voyage. In the time of sailing vessels, the passage between Dominica and Guadeloupe became the main route for ships traveling from Europe. This was due to the ocean currents and northeast trade winds which created a natural course for ships sailing west.  At this time, the Kalinago traded with Europeans while still protecting their land. When Europeans finally settled the island the Kalinago were forced further inland suffering great casualties. In 1903 a 'territory' was created for them, 3,700 acres on the east coast – Known as the Kalinago Territory. It is made up of eight villages –  Sineku, Mahaut River, Gaulette River, Salybia, Crayfish River, Bataka, Atkinson and part of Concord. The Kalinago have their own chief and also a representative in the house of assembly. They tend to keep to themselves and their culture has remained very much unchanged compared to other areas of the island. They reputedly use 300 different herbs for medicine — some of the best bush doctors hail from the Territory. Dances, traditions, legends, and beliefs have been kept alive by the elders who pass on theses traditions through Story-Telling. The language is only spoken by a few people today and traditional dances are performed by Karifuna, their dance group. The Kalinago Territory is well worth a visit. It is almost spiritual how one is flung centuries back into a cool, calm place with the most beautiful group of people, amidst the straw huts and baskets made by the best artisans. You might never want to leave but you would have to unless you could prove that you have Kalinago Ancestry!

Featured on Discovery News:
Native Island Tribe Redefining Survival
"The dwindling Kalinago tribe wants to survive, but is it still possible to preserve an indigenous people?"
February 13th, 2013 
External Links
For more detailed information about the complex and intriguing lives of the Kalinago people and Dominica's history – visit the territory's official website and local historian Lennox Honychurch. Kalinago Territory Lennox Honychurch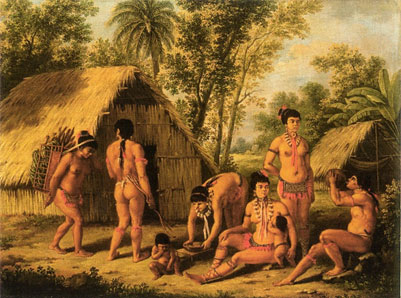 Quick Facts
Formerly known as the Carib Indians, the Kalinago live on a 3,700 acre Territory on Dominica's east coast. Population:  3,000 Chief: Chief Charles Williams (elected every 5 years) Attractions:
Many craft shops
Madjini Pool
Horseback Ridge
Salybia Catholic Church
The Karifuna Cultural Group
Yum!
Don't miss a Kalinago tradition – cassava bread. Made from the local cassava root and often combined with coconut and ginger.