Mas Domnik
All about Dominica's Carnival
Dominica's Carnival – The Real Mas!
---
Mas Domnik is Dominica's Carnival,known as the 'Real Mas' because it holds true to Carnival traditions of the past. Held at the traditional pre-Lenten time, is a feast of calypso music, Carnival competitions and activities all leading up to two exciting days of street jump-up. About a month prior to the festivities, Carnival is formally opened with an official Opening Parade and ceremony which highlights the celebrations to come.
Carnival 2021 has been Cancelled due to Corona virus and health risks.
Carnival 2022 is February 28th & March 1st 
Mas Domnik! Carnival 2022
Carnival takes place on the Monday and Tuesday before Ash Wednesday which marks the beginning of Lent. In the months leading up to Carnival, there are Calypso shows, village feasts and pageants. Traditionally Monday and Tuesday are the two final days of celebration before the quiet and reflective Lenten period.
Carnival Dates
2020: 24th & 25th February

2021: 15th & 16th February

2022: 28th February & 1st March

2023: 20th & 21st February

2024: 12th & 13th February

2025: 3rd & 4th March

2026: 16th & 17th February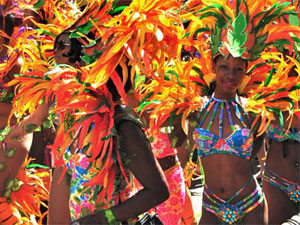 CARNIVAL GUIDE
Learn the best way to participate in Carnival
CALENDAR
Carnival 2020 Schedule of Events
LIVE UPDATES
Visit our Facebook page for live photos of Carnival 2020
PAST WINNERS
See the winners of past Carnival Competitions
Traditional Mas: Dominica Style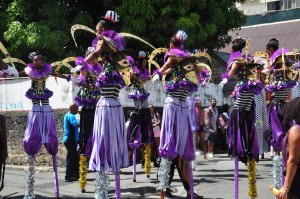 Where did the name Sensay come from? What's a Pappy Show Wedding?
Find out the history behind Dominica's Carnival traditions and learn about the Carnival Costumes you will see in Dominica during Mas Domnik, Dominica's Carnival… read more
 Carnival Season Activities and Events
---
 Here you can read more about the Carnival activities that take place in Dominica each year.
* Carnival 2021 is Cancelled *
(Normally, we have the Calendar of Activities here)
Below are the activities that usually occur during Carnival in Dominica.
Official Carnival Opening Parade & Ceremony
Late January/Early February
This event kicks off Carnival. The Queen Contestants, Calypsonians, Princess Show Contestants, the most popular bands, people in sensay costumes, the 'Blackies', stilt walkers (moko jumbies), cheerleaders, and many more people parade through the streets in a kaleidoscope of colours, encouraged by a huge crowd of on-lookers.
The Stardom Calypso Tent
The Stardom Calypso Tent Every Wednesday during the Carnival Season Commonly called "Stardom," this event is held every Wednesday before Carnival at The Strip (Lalay Coco). It is a Calypso Show Series by which, through a method of elimination that lasts for weeks, the Calypsonians to participate in the Calypso Monarch Competition are chosen. The serious calypso commentary and mix of humour and local scandal makes the tent a favorite among locals. The Stardom "King of the Tent" takes place the last Wednesday before Carnival weekend.
Showdown Mas Camp
Showdown Mas Camp Every Friday during Carnival Season Showdown Mas Camp is another Calypso tent. Showdown Calypsonians perform on Friday nights before Carnival at Harlem Plaza, Newtown.  Their "Champ of the Camp" Competition is typically held the Thursday night before Carnival Monday: Showdown Mas Camp 'Champ of the Camp.' 
Lagoon Heritage Festival
Lagoon Heritage Festival
This one is a definite favorite. It's another pre-taste for the real thing: Calypso, Bouyon Music, lots of people and Kubuli would accurately describe this jam. Like the other activities, this is open to everyone because Carnival in Dominica is a time when all differences are put aside.
Panorama by de Bay
Panorama by de Bay  Held on the Bayfront, Roseau.
Rotary's Souse & Punch
Rotary's Souse & Punch
Hosted by the Rotary Club, this annual tradition is a favourite!
Carnival Princess Show
Princess Show
Held in the weeks before Carnival, the princess show features young girls from around the island, displaying their talents in order to win the title of Carnival Princess.
Carnival Teenage Pageant
Teenage Pageant
Featuring young ladies from secondary schools all over the island with the hopes of becoming Miss Carnival Teen Dominica.
Carnival Mothers Queen Show
Carnival Mothers Queen Show 
This pageant is for the mature ladies to show their talents and strive to win the Carnival Mothers crown.
The National Queen Show
The National Queen Show
Several intelligent beauties from around the island vie for the title of Miss Dominica. Commonly called "Queen Show," this is always very, very well attended. Held in Festival City, we all look forward to this one!
Carnival Monday
Carnival Monday
February 24th 2020
J'Ouvert from 4am to 6am with Lapo Kabwit, then 6 am to 8 am with Hifi Bands. All in Roseau.
10 am to 12 Noon – Traditional Old Mas Costume bands (Sensay, Darkies, Black Devils, Ban Mouve, etc.) and School Bands take to the streets. (***Those wearing Sensay costumes need to register at DFC (Dominica Festivals Committee).
2pm to 10 pm T-Shirt Bands with Hifi.
Carnival Tuesday
Carnival Tuesday
February 25th 2020
10 am – The brand new Carnival King & Queen are introduced. Traditional Costume Bands, Queen Contestants and other costume bands hit the road as well. Listen carefully for the Calypso song that is played most often because it will win the title Road March Song.
Music, culture, people and wild celebration merge to form what we know as Carnival. It is the most festive time of the year where there are no enemies, where everyone comes together to have fun. So let loose, make new friends and enjoy! These parades are held in Roseau, but many other villages have small parades.
Vaval (Wednesday after Carnival)
Vaval (Wednesday after Carnival)
February 26th 2020
In certain places such as the west-coast village of Dublanc and in the Kalinago (Carib) Territory, there is one final event to Carnival – the Ash Wednesday burying (or burning) of the 'spirit' of Carnival and the beginning of Lent. Read more…
Carnival Events Calendar
Typical Order of the Carnival Season
Opening Parade
Princess Show
The Stardom Tent
Showdown Mas Camp
The National Queen Show
Teenage Pageant
Lagoon Street Jam
Stardom "King of the Tent"
Showdown Mas Camp "Champ of the Camp"
National Calypso Show
Mini Carnival – Bord La Mer
Kiddies Carnival
Rotary's Souse & Punch
Carnival Street Parade & Jump Up
Vaval