How to Play Mas in Dominica
Ever wondered how to get involved in Carnival in Dominica? We're here to help!
How to Play Mas in Dominica!
---
Get the best out of your Carnival Experience with our tips and tons of information!
In the weeks leading up to Carnival Monday and Tuesday, a number of shows, fetes and activities are held in Dominica. Calypso Tent eliminations begin a month before, with the finals taking place the Saturday right before Carnival. This is probably the most well attended show of the season.
Pageants such as the Carnival Queen Show, the Teenage Pageant and the Carnival Princess Show are also very popular. The winners these events parade on the Tuesday with the costume bands throughout the streets of Roseau.
More information about Carnival Traditions and Events can be found on our Carnival Events page.
Our Recipe for Playing Mas
---
1. Carnival Season Opening Parade
Usually takes place on a Saturday about a Month before Carnival Monday and Tuesday. A Great way to get into the Carnival spirit!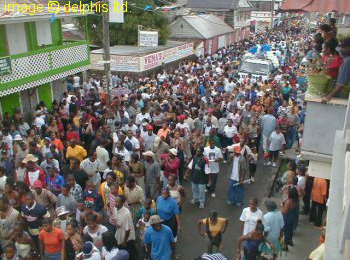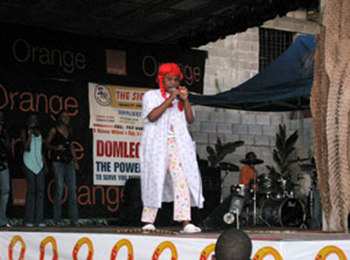 2. Go to a Calypso Show or "Mas camps"
Held weekly on Wednesdays & Friday evenings until the week before Carnival Monday and Tuesday.
3. J'ouvert Morning!!
Participate in J'ouvert morning: Monday from about 4:00am – 6:00am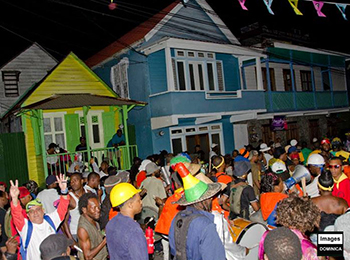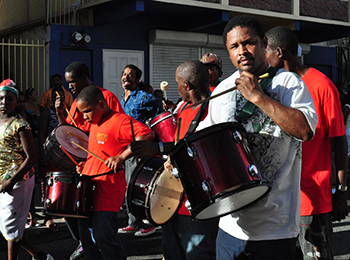 4. Join a T-Shirt Band
Join a T-Shirt Band: Carnival Monday from about 2 pm on wards…
5. Carnival Tuesday
Join a Costume Band: Carnival Tuesday 10 am – on wards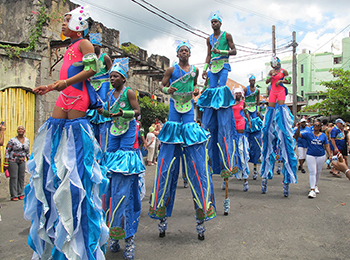 Join a Band
---
Sometimes it can be overwhelming to decide or choose how best to enjoy and participate in carnival. Joining a band means you may not have as much chance to spectate but you will have fun dressing up and dancing to the music. See the options for joining bands below.
Do you know of a Band that is not listed? Contact us!
J'Ouvert Bands
Ole Mas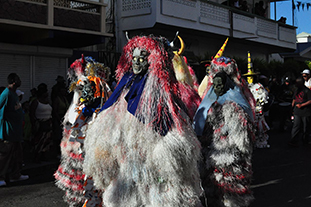 Ole Mas is from 10:00 am to 12:00 pm on Carnival Monday.
Comprising of Traditional Costumes such as Sensays, Darkies, Black Devils, Ban Mouve, Afrikulture Stiltwalkers.
***Those planning on wearing Sensay costumes need to register prior, and display their registration number when in costume.
PURE Band
Facebook: https://www.facebook.com/PUREDOMINICA/
Registration Fee $50.00 at Freight Master, 16th King George V St.
Afrikulture Stilt Walkers
Facebook: https://www.facebook.com/afrikulture.walkersinc?fref=ts
T-shirt Bands
T-Shirt Bands begin at 2 pm Carnival Monday
Kairi FM & Flow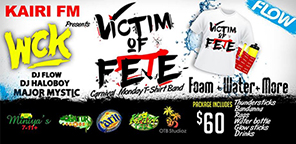 'Victim of Fete' T-Shirt Band
Facebook: Kairi FM
Register online at www.kairifm.com
Includes DJ Haloboy, Major Mystic and DJ Flow
The package costs EC$60 for an all-white T-shirt band. Three sections! Foam, Water and Dry.
---
Klubird T-Shirt Band
Registration at Internal Revenue Office on High Street
Contact numbers: 1 (767) 266 3620 or 1 (767) 266 3664.
Sponsored by Dragon Windows
---
Bouyon Titans T-Shirt Band
Price: $75
Registration: Depex
Contact: (767) 448 2012
Adult Costume Bands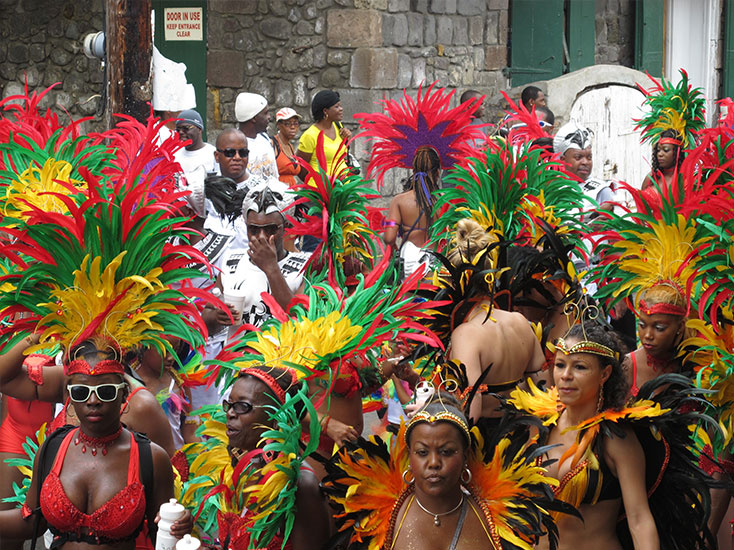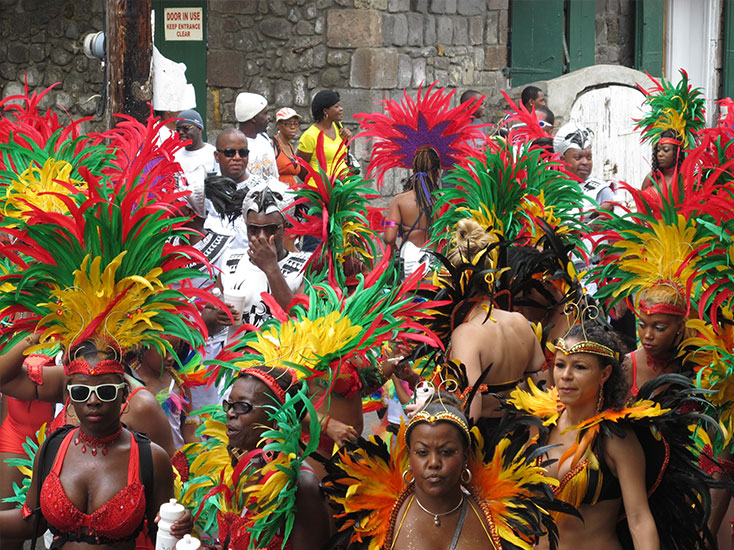 Hysteria Carnival Band
Website: www.hysteriamas.com
Facebook: HysteriaMas
Mercury Carnival Band
Facebook: Mercury Carnival Band
Amnesia Carnival Band
Facebook: Amnesia Carnival Band
Youth & School Costume Bands and Floats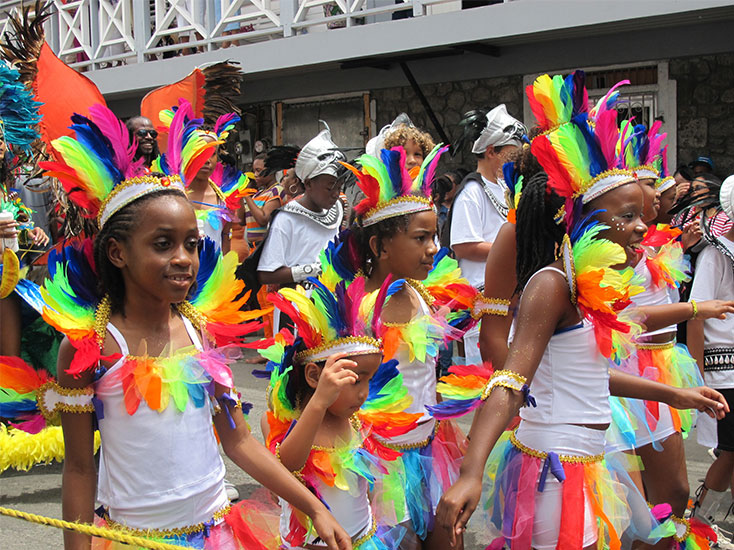 Schools around the island also participate in the Carnival festivities, and is restricted to students of each school.
Some of the Island's schools who participated in Carnival 2015:
Castle Bruce Secondary
Goodwill Secondary
Isaiah Thomas Secondary
Pioneer Prep
St. Mary's Academy
Convent Prep
Roseau Primary
Roosevelt Douglas Primary
Tips for Enjoying Carnival
Spectate
---
Watching Carnival is a fun and unique experience – you will see vibrant costumes reflecting years of tradition and folk lore. Here are a few tips to help you enjoy it all.
Kid-Friendly
School Bands participate on Monday morning. Note that it can get loud so we recommend ear plugs for young children.
Food & Restaurants
Few businesses are open during Carnival or along the route. However three are a number of snackettes and bars set up all around the Capital. You'll find some delicious Creole favourites like callaloo soup and goat water, as well as BBQ chicken, bakes, peleau, burgers, hotdogs and other snacks. Local juices & beverages are also plentiful! Try Dominica's Kubuli Beer or any of our fresh-made local fruit juices: passionfruit, carambola, orange to name a few. Fresh coconut water is also readily available – it is a great re-hydrator!
Some restaurants are open and make a good viewing spot, such as the Garage on Hanover Street.
Essentials
---
What to bring
These are some suggestions on what to bring with you, whether you are playing Mas or just a spectator, these little reminders can help you fully enjoy the days.
Sunglasses / Hat
Sunscreen
Bag (backpack) or purse/snatch (with a wrist strap)
Rag or towel
Water bottlel
CARNIVAL MONDAY AND TUESDAY - Parade Schedule
CARNIVAL MONDAY
J'Ouvert from 4am to 7am with Lapo Kabwit (goat-skin drumming bands), then 7 am to 8 am with HiFi Bands. All in Roseau.
10 am to 12 Noon/2 pm – Traditional Old Mas Costume bands (Sensay, Darkies, Black Devils, Ban Mouve, etc.) and School Bands take to the streets.
2pm to 10 pm T-Shirt Bands with HiFi.
CARNIVAL TUESDAY
10 am – The brand new Carnival King & Queen are introduced. Traditional Costume Bands, Queen Contestants and other costume bands hit the road as well.
Listen carefully for the Calypso song that is played most often because it will win the title Road March Song.

These parades are held in Roseau, but many other villages have small parades – Portsmouth, St. Jo, and Grand Bay to name a few.
For the Full Calendar of Carnival Activities, visit our Carnival Events page.