You won't want to miss this wonderful event that takes place at one of Dominica's premier venues - Fort Shirley, Cabrits National Park in Portsmouth.
Live Creole Jazz, local cuisine, local drinks and lots of fun. An event for the whole family. The event is held annually in May/June.
Tickets are just $EC 75 at the Gate. EC $60 when purchased at the Fringe Events!
---
Jazz 'n Creole is Sunday June 4th 2017
---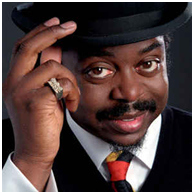 Courtney Pine to Headline Jazz 'n Creole Festival 2017!
Click here to learn more
No musician more embodies the dramatic transformation in the British jazz scene over the past thirty years than saxophonist Courtney Pine. The ground breaking, multi- instrumentalist has led a generation of exciting and innovative players who have broadened their styles to take jazz out to a wider audience. He has released 16 studio albums to date and continues to tour worldwide with his award winning band playing clubs, concert halls and festivals from Glastonbury to Fuji Rock, Montreux to Cape Town. With his popular "House of Legends" set, Courtney is sure to thrill the Jazz 'n Creole fanatics with its true creole island flavour. Along with Courtney, Jazz 'n Creole patrons are expected to see the stage come alive with Michele Henderson, Breve and Ti Orkest.
---
Also Performing at Jazz n' Creole 2017
Michele Henderson
Breve
Ti Orkest
Vocal Song
---
Don't miss the Jazz Fringe Events in the run up to the Main Stage Event!
2017 Jazz Fringe Events
Sunday, May 28 – Lazy Sunday Jazz at the Evergreen Hotel, Castle Comfort
Wednesday, May 31 – French Quarter Street Jazz at Urban Garden Cafe, Roseau
Thursday, June 1 – The Anchorage Hotel, Castle COmfort
Friday, June 2 – Fort Young Hotel, Roseau
Friday, June 2 – The Champs, Picard, Portsmouth
Saturday, June 3 – Atlantique View Resort & Spa
Saturday, June 3 – River Stone Bar & Grill, Belles
June 4th Main Stage Jazz n' Creole Tickets are just EC $60 when purchased at a Fringe Event (Ticket price is EC $75 at the Gate at the Cabrits)