The public were more on guard for Hurricane Danny than Tropical Storm Erika, which was predicted to pass over Antigua and with little to no effect on Dominica. But on the night of August 26th when the first droplets of rain landed in the mountains and cracks of thunder echoed in the sky, there was no warning, little sense of urgency.
During the entire month of August, a 30-year average for Dominica's rainfall along both coasts is about 9 inches – (source Dominica Meteorological Service). That's 9 inches of rain over 30 days. Erika brought with her an estimated 15 inches of rain in just a matter of hours.
When word came that there were disasters, it was difficult to comprehend the magnitude. With communication cut off in many areas, cell service down, and most without utilities, little by little stories trickled in of homes, bridges and roads swept away, villages cut off and trapped by landslides and worse still residents found dead or missing.
The damage is severe, and for many who had never experienced Hurricane David on 29 August 1979, it would be the worst disaster in memory. For a small and tightknit island like Dominica, it's easy to feel the loss. Not just by those of us who live here, but those who live abroad and even those who had once visited.
There's something deeply comforting about the way people come together in the wake a disaster, as if balancing the horrific events of tragedy with remarkable acts of kindness and genuine care. Dominica isn't just a nature isle of resilient beauty, she's a land with people to match, spirited and strong.

Looking at the Roseau River and part of the road leading to Papillote and Trafalgar Falls.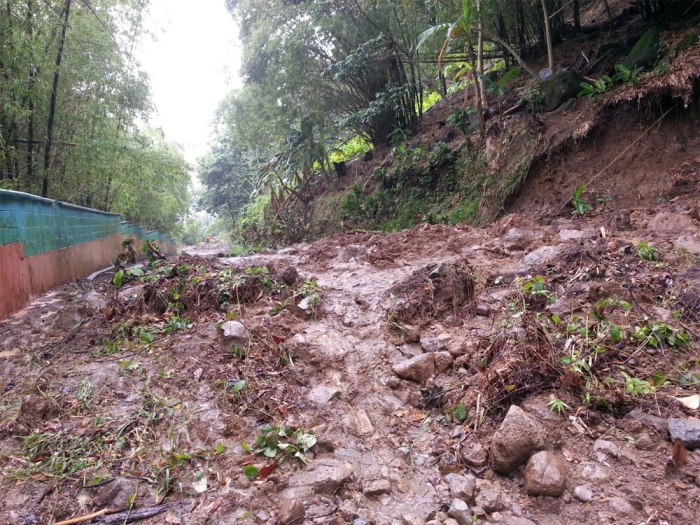 One of the many landslides blocking the way out of Trafalgar, Shawford and Laudat.
HELP IF YOU CAN
There are many ways to donate and to provide help to Dominica in this difficult time.
We've compiled a list of some of the options, but please beware of potential donation scams and always verify account information.
---
Information From The Office of Prime Minister
The Government of the Commonwealth of Dominica has established an account at the Eastern Caribbean Central Bank to receive contributions in support of its recovery and reconstruction efforts following the passage of Tropical Storm Erika.
The account details are as follows:
United States Dollars (USD)
Federal Reserve Bank (NY)
SWIFT: FRNYUS33
ECCB's account number at the FED: 021083695
FFC Government of Dominica account 310301005
##
British Pound Sterling (GBP)
Bank of England
SWIFT: BKENGB2L
ECCB's account number at Bank of England: 40920003
FFC Government of Dominica account 310301005
##
EURO
Deutsche Bank, Frankfurt
SWIFT: DEUTDEFF
Favour: Crown Agents Bank
SWIFT: CRASGB2L
Account No: 9608217
IBAN: DE35500700100960821700
ECCB's Account Number at Crown Agents: 33792403
FFC Government of Dominica account 310301005
##
Canadian Dollars (CAD)
Bank of Canada
SWIFT: BCANCAW2
ECCB's account number at Bank of Canada: 30641-1
FFC Government of Dominica account 310301005
##
Eastern Caribbean Dollars (XCD)
ECCB: ECCBKNSK
Government of Dominica BIC code GVDMDMDM
For Government of Dominica call account 310301005
---
The CDOA is a non-profit Organization whose aim is to maintain an Organization that will support thegoals and objectives of residents of Ontario who are of the Commonwealth of Dominica Origin/Descent. www.dominicaassociation.ca
GoFUNDme: T.S. Erika Relief Fund for Dominica (recognized by the Government of Dominica) – www.gofundme.com/DA-ErikaReliefFund 
---
The association was organized on June 28, 1981 by a group of concerned Dominicans living in and around the New York area. www.darda.org
DARDA's Wish List for Dominica Survivors of Tropical Storm Erika: https://www.amazon.com/gp/aw/ls?lid=2XZPSSA8Q62OL&ty=wishlist
GoFUNDme: Dominica – TS Erika Disaster Relief (recognized by the Government of Dominica) – http://www.gofundme.com/nj2yvn8k
---
Cash donations can be deposited into the following Royal Bank of Canada account:
USD Funds to RBC Dominica
Field 56 – Destination / Intermediary Bank:
CHASUS33
JP Morgan Chase Bank
New York
ABA 021000021
Field 57 – Pay to Bank / Beneficiary Bank:
/0011030798
ROYCDMDM
RBC Royal Bank of Canada
Roseau, Dominica
Field 59 –
Beneficiary Account: /096555100-1080
Beneficiary Name: ABCCompany
On Field 59, the format for the beneficiary account number is: The first 5 digits are the transit number and the last seven digits are the account number.
Check out their Facebook page for updates: www.facebook.com/pages/Dominica-Red-Cross-Society-767/520243808085901
IF sending supplies use this Address:
Dominica Red Cross
National Headquarters
Federation Drive
Goodwill, Roseau
Be sure to include: Dominica Red cross for Government of Dominica T.S. Erika
---
Rebuild Dominica is a relief organisation based in the Washington, D.C. area comprised of people determined to help rebuild Dominica in the wake of the devastation wrought by Tropical Storm Erika.
If you are in the area – you can drop off supplies. Visit their site http://rebuilddominica.org/