Traditional Dress in Dominica
October is one of the best months to visit Dominica, because our culture is on display everywhere. Throughout the month, Fridays are designated as "Creole Dress" Day (Had Kwéyòl). On the Fridays leading up to Creole Day (the last Friday of the month), we add an accent of creole to our clothing or wear colourful madras skirts, tops and dresses. Many people create new fashions with madras patterns, all paying tribute to our Creole heritage. On Creole Day, traditional creole clothing like the Wob Dwiyet is on full display everywhere you go — and especially during the Creole Day Parade in Roseau.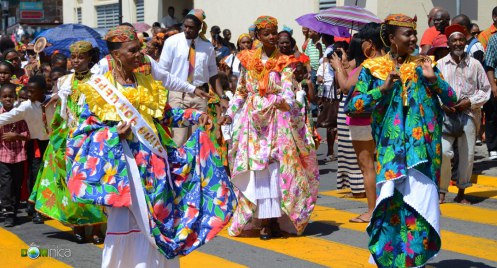 Creole Day Parade in Roseau
Dominica's National Wear
Dominica's traditional National Wear includes a Wob Dwiyet for women and black pants, white shirt and red sash for men.
The Wob Dwiyet is a national symbol of Dominica. You can see it in all its glory during the Miss Wob Dwiyet Competition held every year during Independence.
Men also wear brightly coloured madras shirt jacks, waistcoats, or sashes when celebrating the Creole Season.
---
DID YOU KNOW?
The traditional  Wob Dwiyet ("Grand Robe") consists of mouchoir, foulard, jupe, chemise, and "jupon a dantell" complete w

ith gold jewellery on arms, neck, ears and mouchoir.
Drawing and information from Dr. Lennox Honyhchurch – read more at  www.LennoxHonychurch.com
---
FÈT ANDÉPANDANS 2016 in Dominica
See Creole Wear on display at the many Creole pageants throughout our Independence Celebrations:
Ti Matador Creole Pageant – Thurs. Oct. 20th, 8pm at Arawak House of Culture
Madame Wob Dwiyet Pageant – Sat. Oct. 22nd, 4pm at Arawak House of Culture
Miss Wob Dwiyet Pageant – Thurs. Oct. 27th, 8pm at Old Mill Cultural Centre
Creole Dress Parade – Fri. Oct. 28th, 10 am in the Streets of Roseau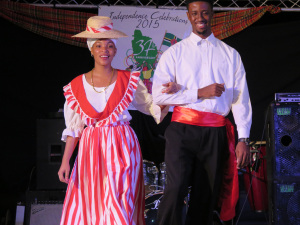 For a more detailed description of tradition Creole dress, see avirtualDominica.com which
See all the post about our National Symbols here.