Waitukubuli National Trail: Segment 03
Bellevue Chopin, Saint George Parish

, Begin Segment 3
Giraudel, Saint George Parish

, Segment Junction
Morne Prosper, Saint George Parish

, Segment Junction
Wotten Waven, Saint George Parish

, End Segment 3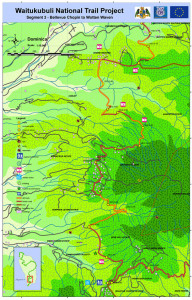 Bellevue Chopin to Wotten Waven
This segment of the trail begins in Bellevue Chopin, a village perched on the backbone of Dominica and well known for the many organic farms in the area. Spend some time in the village, take a tour and learn about local herbs, vegetables and fruits.
Leaving the 'beautiful views' of 'Belle V' as the village is fondly known, you trek across to Wotten Waven, the Hot Spring capital of Dominica. WNT Segment 3 ends here and you will be delighted to relax in any one of the many natural hot pools located in this community.
Within the community of Bellevue Chopin, follow the blue and yellow markers.
Bellevue Chopin: 15.267169, -61.347222 Wotten Waven: 15.316703, -61.337717
+ 1 767 266 3593, + 1 767 440 6125
Begin: 1537 ft, End: 965ft, Rough highest point: 1800 ft