~ Folk Tales from Dominica  ~  Two FANTASTIC New Books!
Before the electronic age, do you remember gathering under the breadfruit tree at night, listening to Granny tell tales about the soukouyan and lougawou?
Roy Sanford and Jeno Jacob sure do… and they want to share these stories with you!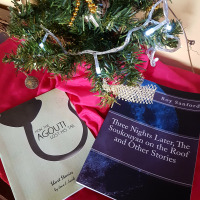 The traditional Dominica Folk Tales taught life lessons, gave moral guidance, and explained mysterious circumstances like creaks in the roof and the glow of fire flies in the distance.
Two local authors have recently released their interpretations of these delightful (and sometimes fear-inspiring) tales. So share some Dominica Tradition this holiday season and read a story or two when you're gathered around the table for Christmas Dinner.
The books are available at local bookstores, online on Visit-Dominica.com and at the Roseau Market this Saturday (December 17th, 2016). Enjoy!
Three Nights Later, The Soukouyan on the Roof and Other Stories

by Roy Sanford
EC $50 (US $18) includes shipping to the Caribbean, US, UK, Canada.
Buy the Book (Paperback)
How the Agouti Lost His Tail
by Jeno J. Jacob
EC $40 (US $14) includes shipping to the Caribbean, US, UK, Canada.
Stop by the Waitukubuli Writes Christmas Book Sale at the market this Saturday, December 17th to buy these books and see a whole lot more.

Want more?
See more products from Dominica that are available for online purchase at Visit-Dominica.com