Dominica's National Emblems: Coat of Arms
According to Dr. Lennox Honychurch, Dominica's Coat of Arms was designed in 1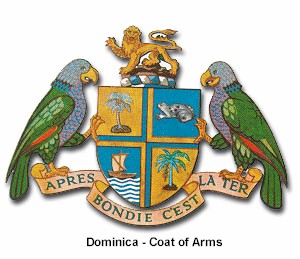 960 by three people:
First Chief Minister of Dominica Franklin A. Baron
British Administrator of Dominica, Colonel Alec Lovelace
Eleanor Lovelace, wife of Colonel Alec Lovelace
In 1961, the Coat of Arms was registered at the College of Arms in London.  The Coat of Arms is to be displayed as follows:
"on Seals, Shields, Banners, Flags or otherwise according to the Laws of Arms".
The shield is divided into 4 parts and shows:
volcanic soil and a coconut tree
the crapaud – (now an endangered species)
a kalinago canoe with sails
and a banana tree with mature fruit
The Motto is Apres Bondie C'est La Ter and it means "after God, the earth" which shows the significance of soil and agriculture in Dominica.
---
For more information about Dominica's National Symbols and Independence Celebrations, see avirtualDominica.com