During Independence and Creole Season you'll often spot both women and men walking through Roseau wearing beautiful "chapo pay" (straw hats). These hats are not only practical in that they give much-needed shade from the tropical sun, but they support the local economy too!
Hand-crafted Chapo Pay are common in Dominica, where we have many talented craftsmen and craftswomen who continue to practice the skills they were taught by their grandparents.
One such talented woman is Ms. Jistine Fontaine, sister to the late Prime Minister Hon. Pierre Charles.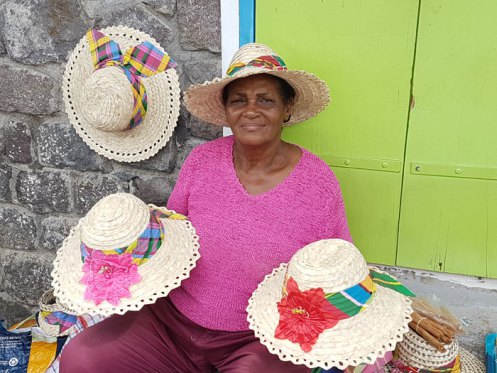 Jistine creates these beautiful hats herself. She makes the straw from screw-pine before weaving the hats into various designs and adding the creole touches, madras clothe and a flower or two.
Do you have your Chapo Pay for the 2016 Independence Season?
If not, feel free to visit Jistine. She is located at the corner of Independence and Hillsborough Streets. Once Cruise Season starts, you can find her on the Bayfront at Booth #2.
Her hats are reasonably priced and beautifully crafted in both men's and women's styles!
---
The Process
Making the 'straw' from screw-pine is not an easy task!
Watch this fantastic video from the Cultural Division that shows how screw pine is processed and then made into different products. The mini documentary is less than 5 minutes.