World Creole Music Festival (WCMF) Event Information
Windsor Park Sports Stadium, Bath Road, Roseau, Dominica
WCMF 2019 ~ October 25th, 26th, 27th
Dominica's annual World Creole Music Festival is held over three nights at the end of October and features the best in creole music from around the world.
2019 Line-Up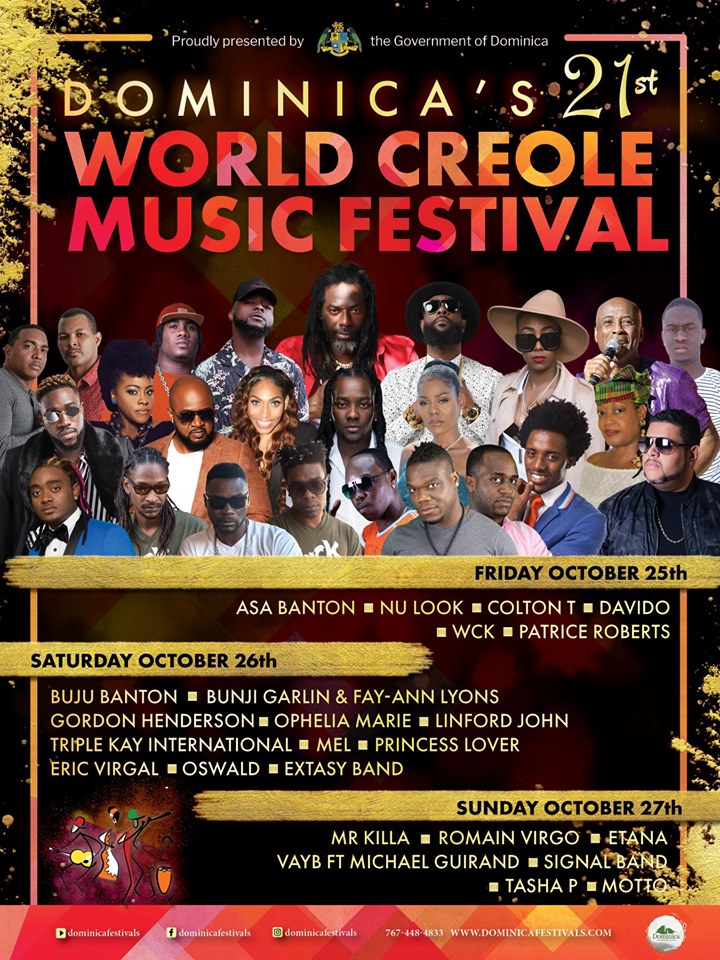 ---
WCMF 2019 Promo Video
Dominica's World Creole Music Festival 2019!

Purchase your tickets online now and book your accomodations for the World Creole Music Festival 2019 headlined by Buju Banton, Davido, Bunji Garlin, Nu Look, Asa Bantan, Patrice Roberts, the Triple Kay Band, Romaine Virgo and more!Book event tickets here: https://secure.ticketpal.com/affiliate/ddawebsiteFind places to stay here: https://dominicafestivals.com/where-to-stay/

Posted by Dominica Festivals on Friday, August 16, 2019
---
Tickets
Season Tickets: EC $325 (US $125 / Euro 109)
Nightly Tickets: EC$120 (US $48 / Euro 40)
Sunday Children's Ticket - EC $50.00
Tickets available on island at Depex Color Lab and Bulls Eye Pharmacy. VIP Tickets on sale at these venues or online on Ticketpal.com.
---
VIP Information
VVIP Village Tickets - All-inclusive premium food, drinks and entertainment package for EC$950 season and EC$350 nightly.

PVIP Party Vybz Tickets -Premium all-inclusive drink package for EC$800 season and $280 nightly.
Tickets are available locally through ticket outlets at Depex Colour Lab in Roseau and Bull's Eye Pharmacy in Roseau and Portsmouth and online at TicketpalCaribbean.com.
---
Contact Information
Dominica Festivals Commission
Financial Center
Kennedy Avenue
Roseau, Dominica
Tel: (767) 255-8221