World Creole Music Festival (WCMF) Event Information
Windsor Park Sports Stadium, Bath Road, Roseau, Dominica
WCMF 2018 ~ October 26th, 27th, 28th 2018
Dominica's annual World Creole Music Festival is held over three nights at the end of October and features the best in creole music from around the world.
2018 Line-Up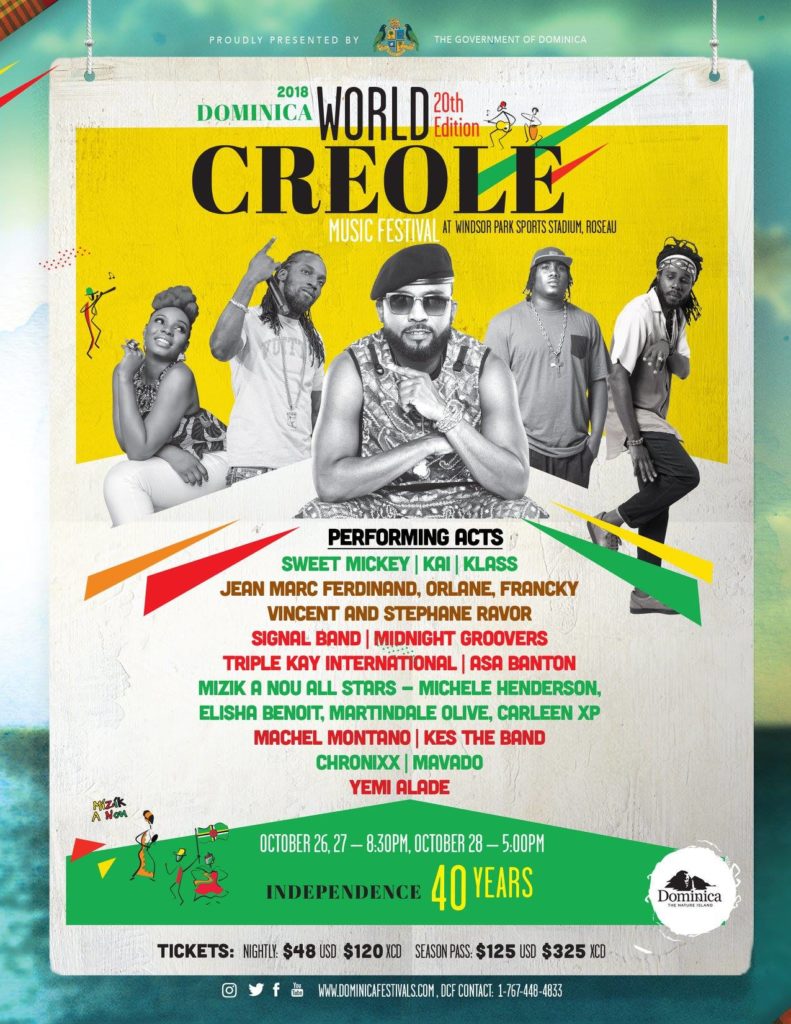 ---
---
Tickets
Season Tickets: EC $325 (US $125 / Euro 109)
Nightly Tickets: EC$120 (US $48 / Euro 40)
Sunday Children's Ticket - EC $50.00
---
VIP Information just released!
The DFC announced plans for the WCMF VIP Experience at EC$750 or US$280 for season passes or EC$300 or US$115 for nightly passes.

The VIP Experience will include a selection of premium drinks and variety of tasty foods as well as an elevated Premium view of the festival stage with a covered and comfortable lounge area; convenient access to the grounds; a lower traffic environment for casual conversation and relaxation; access to front of the stage with an unparalleled view and closer artistes experience; and a grounds experience for selected drinks plus a more casual environment.

Tickets will be available soon at the DFC office however patrons can call to reserve their ticket (767) 255-8221. Tickets will also be available online via TicketPal.com
---
WCMF 2018 Merchandise
WCMF Combo Pack to include a WCMF backpack, WCMF key-light opener, WCMF towel, WCMF phone pouch and WCMF bottle to be sold at EC$69.95/US$26.00. WCMF umbrellas will be sold separately at EC$45 or US$15 each.
Patrons can place orders by logging on to dominicafestivals.com or calling the office at 767-448-2045.
---
Contact:
Dominica Festivals Commission
Financial Center
Kennedy Avenue
Roseau, Dominica
Tel: (767) 255-8221