Historic Roseau Walking Tour
Learn about the development of the island through the capital city and its architecture. Significant structures as well as styles are identified, describing the culture and history of their time.
Better appreciated on foot, Roseau's mercantile buildings can describe the history of the capital and in fact the island as Colonial trade increased within the region. Despite fires, mostly caused from military action, and numerous hurricanes, the center of Roseau still boasts the best-preserved collection of urban vernacular in the Caribbean.
With our 16-Page Leaflet & Fold-Out Map, Historic Roseau is at your fingertips. And there's a Podcast as well to guide you! You can purchase a self-guided tour for $4 USD at the Duty Free shop in Fort Young Hotel, or Hire the Architect-Author as your guide for $15 USD pp which would last approximately 1.5 hrs.
Estimate an hour and a half for a relatively quick loop and over two hours for a more thorough tour, even more if you decide to investigate the artisans and craft shops that are also listed.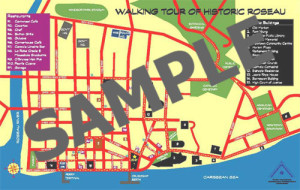 Walking Tour Podcast
---
Our Historic Roseau Walking Tour Podcast can accompany you on your tour.

Listen to the Podcast (30 minutes)